Back to blog
Inside Bamboo Loans: a day in the life of JP, Senior Customer Service Representative
Meet JP, Senior Customer Service Representative at Bamboo Loans. Read what he has to say on our ongoing "A day in the life" series that highlights popular Bamboo Loans job functions, as seen through the eyes of our employees.
Hi JP, tell us a bit about yourself, what do you do?
I am a Senior adviser in the Customer Services Team at Bamboo Loans.
So why did you decide to work for Bamboo, and what are your working hours?
I wanted to work in a company which was growing in the personal loans sector and I presently work 7.5-hour days, on shifts between 8am and 8pm.
What was your background before you joined Bamboo?
Previously, I worked for 15+ years in the Banking, Customer Services and Complaints handling industries.
What are you currently working on?
I am currently a Senior adviser in the team, so work to support customers with applications. I also support my colleagues and my manager in the day to day running of our successful team.
What is your favourite part about working with Bamboo?
I enjoy being able to help customers complete their applications once it has been reviewed by our Underwriting team. Be this helping them to send in the required documents or with signing the agreement once agreed. It's especially rewarding when you receive reviews from customers specifically mention your name.
Any favourite projects you've worked on?
We have recently had new people join our team, and I have really enjoyed being involved in their training and helping them to excel in this fast paced and friendly environment.
Outside of the office, how do you spend your free time?
Outside of work, music is my main passion. I sing and play bass guitar in 2 bands/singing groups, so a lot of my spare time is taken up with practice or performances.
What would you say to people about Bamboo?
It is an amazing company to either take a loan with, or work for. Our office has an amazing friendly atmosphere whilst working, which is then also carried over into our interactions with customers.
What are your top tips for being successful in the working environment?
My 3 top tips would be 1) Be honest 2) Work Hard 3) Treat customers and colleagues how you would want to be treated.
A day in the life of JP: Tell us your daily routine
What does the typical day look like for you?
8:00 a.m. Set out the calling strategy for the day and start to call customers for contact before work.
9:00 a.m. – 12:00am Call customers & assisting with the running of the team
12:00 p.m. Lunch (often with friends from work)
1:00 p.m. -4:30pm Call customers & assisting with the running of the team
6:00pm Dinner
7:00pm – 11:00pm Music Practice then chilling out
11:00pm Watch TV & Go to bed
Here's another great review I got: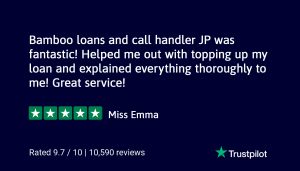 Author

The Bamboo Team

Posted

10 June 2019