With new stricter rules just announced in the UK to tackle the spread of Coronavirus, we decided to put together a blog post to help families out there currently self-isolating with little ones!
With schools, playgrounds, theatres and shops now shut, it's bound to get pretty crowded in our homes. But before we all start climbing the walls in frustration, here's a comprehensive list of super fun activities you can enjoy either as a family or just to keep your kids entertained long enough for you to get some work done!
Spiders web
This is a bit of a messy one but who doesn't enjoy messy play? The idea here is to turn your hallway or any room into a spiders web. Gather all the wool and tape you can find and put together a fun spiders web. Now the challenge is to get through the web without touching it. Its an activity even adults can enjoy! Hours of entertainment and lots of laughter guaranteed!
Foot drawings
Are your little ones getting bored of the usual colouring and drawing? Why not shake things up a bit and bring the fun back with foot drawing? The challenge here is to see who can hold a pencil with their toes and draw something. Again one for adults to join in too. The giggles will be worth it even if it's not something you'll do again for another week!
Plant a seed
This is a fun yet educational activity too. With new social distancing rules in place, this is a great time to teach your little ones a new skill like gardening. But for those who don't have any gardening tools or space to plant, just grabbing a lentil or chickpea can do the job. Get some wet cotton and let your little ones plant a chickpea or lentil in it and they can watch it grow! It'll be something they'll look forward to seeing every morning.
Homemade puppets
Now's the time to pull out all those old clothes, socks, buttons, etc. that you've been meaning to throw out but never got around to. Find whatever you can and get your little ones involved in putting together some fun puppets. They might even learn how to do some basic stitches or sew a button, a very handy life skill! In the end, you can encourage them to play out a puppet show. Let their imagination run wild and enjoy the show!
Treasure hunt
With Easter just around the corner, it's safe to assume, this one is definitely going to be very different than our usual easter fun. But who says you can't still enjoy an egg hunt? Get creative, put together a fun map with lots of clues and your little ones will be occupied for hours, trying to find all the eggs. It doesn't even have to be easter eggs, you can hide any object and pretend its treasure you're looking for. Though chocolate eggs definitely sound much more tempting to little ears.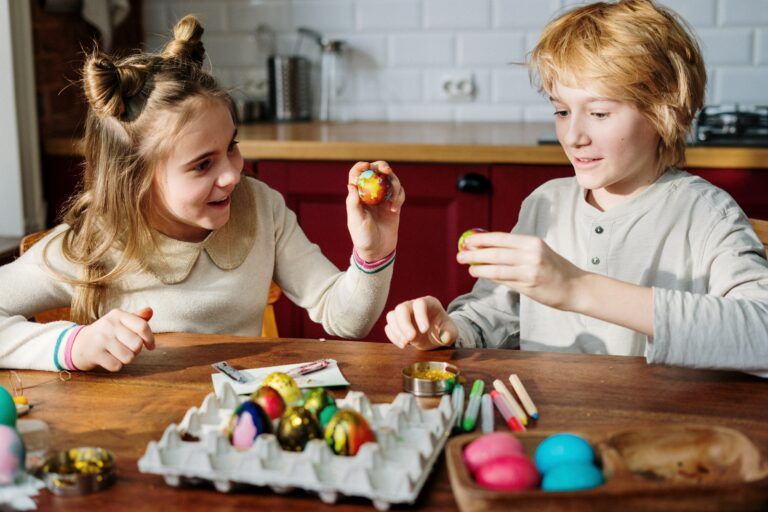 Boredom buster
As the name suggests, the idea behind this activity is that whenever a kid complains about being bored, you know where to head! Get all the kids involved, grab lots of small pieces of paper, and put together a list of fun activities to do. You can grab lots of ideas from this list we've put together here. But do encourage your kids to come up with some ideas of their own so they're more interested in playing. Write each activity down on a piece of paper and throw it in a jar. Whenever someone is bored, or you find you've got nothing to do, pick up the jar, pull out a piece of paper and get started on whatever activity comes up. Just make sure you keep replenishing the jar with more fun ideas to keep the game interesting.
Catwalk
Couped up in the house doesn't mean you can't dress up anymore! If you're getting bored of your loungewear, why not pull out all your fancy outfits and jewellery and play dress up! Those with girls are definitely going to enjoy this one! Give each other manicures, indulge in some facials, throw on some jewellery and fancy outfits and strut down the hallway! Unleash your inner fashionista!
Chinese Whispers
This is a great activity when looking for some quiet fun! The good old Chinese Whispers game is fun for kids of all ages. You can even make it a bit educational by testing new language skills. If your kids have been learning Spanish or any other language, you can start off with a phase in that language and see how well it comes out.
Baking lessons
Here's one both adults and kids can enjoy together. There are lots of tutorials online for rustling up all kinds of delicious treats. Whether its something quick and easy your after or looking for a bit of a challenge to up your game! YouTube is your best resource but lots of bakeries and chefs are also live streaming on Instagram too. London's famous bakery 'Bread Ahead' has started live-streaming a baking session on its Instagram page everyday for its followers around 2 pm. It's a really fun way to tune in live and bake with your family. Just check out their schedule beforehand so you know what ingredients you'll need for the class.
Stranger for dinner
Here's a slightly weird but fun idea. Social distancing can leave us craving new people so why not just become a completely new person over dinner! This is an activity you can all take turns playing. One person acts as the visitor or stranger in the house and everyone else asks questions and attends the person as they would if they were meeting someone new over dinner.
Ted Ed@Home
For parents looking for resources to start homeschooling, this is a great place to get started. The famous learning website Ted has now launched Ted Ed@Home, in light of Coronavirus, to offer students of all ages study material they can access over the web. They cover lots of interesting topics so your kids can pick anything they fancy. You can even sign up to a daily email subscription that covers lesson plans tailored to your age and interests.
There are lots of other e-learning resources online available online. Here are just some options:
Khan Academy – great for learning maths and computing for all ages. It does, however, use the U.S grade system.
BBC Learning – lots of great content available that you can access, without having a TV license.
Seneca – great for those revising at GCSE or A levels.
Blockly – great resource for learning computer programming skills for free.
Mystery Science – lots of free science lessons to enjoy
Paw Pring Badges – lots of free challenge packs and indoor activities to download and enjoy. Badges cost but are optional.
Author

The Bamboo Team

Posted

25 March 2020