Back to blog
Ask Boo: What are some good Valentine's Day ideas on a budget?
Just two weeks till Valentine's Day! Not to panic if you haven't got anything planned yet. We've put together 5 great ideas for impressing your loved one on a budget.
This year, we decided to come up with ideas that are a little out of the box. Fancy jewellery, lavish bouquets, or big boxes of gourmet chocolate are too cliche anyway. If you're really looking to impress your loved one, why not plan some memorable experiences around activities you both enjoy. Or if you must get a gift, think about a gift that speaks to the person your getting it for. Just the way you would for a birthday!
So to get your train of thoughts started, here are some Valentine's day ideas you can enjoy while sticking to a budget:
1. Celebrate it on the 15th of February
Here's a secret that only the thriftiest of romantics know: everything you could possibly need to throw an amazing Valentine's day is cheaper or easier the day after. Flowers and chocolates are cheaper (even reduced!), it's easier to get a table at restaurants, gifts aren't overpriced (and again, are even reduced)… so many Valentine's day ideas can be enjoyed on the 15th instead of the 14th. The list goes on and on, but the point is: if you're not fussy about celebrating on the actual day, you can do all of the traditional Valentine's Day stuff for half the price the day after. Plus this year Valentine's Day falls on Friday and chances are you're both tired from the long week you've had. So why not plan a day of romantic fun on Saturday. You can buy twice the chocolates and twice the flowers and twice the food for the same amount of money! Win, win!
2. See a tribute band
Now, for thrifty romantics, tickets to see your favourite band are almost definitely out of the question. But if you look into buying tickets to see a tribute act, that can be surprisingly affordable! If the tribute act is great, you'll have a good time dancing away to your favourite songs. What better way to enjoy the day?
You can also use this idea to buy a gift if you really want to give her something meaningful on the day. The tickets can be for any time in the future, meaning there will be more chances of you grabbing a bargain. It's definitely an idea that you will both really enjoy whether that's on the day or anytime in the future.
3. Take a trip to the arcade
Third, on our list of Valentine's day ideas on a budget requires you to embrace your inner child and take a trip to your local arcade. Because who doesn't like letting their inner kid out?
Make sure stock up on loose change so you get a chance to do everything the arcade has to offer, from getting ice creams to trying your luck at the claw machines to taking silly photos in the photo booth. Be warned, things are probably going to get competitive, but that's half the fun!
Plus, if you're lucky, you can bring home a stuffed toy and some silly photos as a reminder of a great Valentine's Day, all without spending more than £20 for the whole night.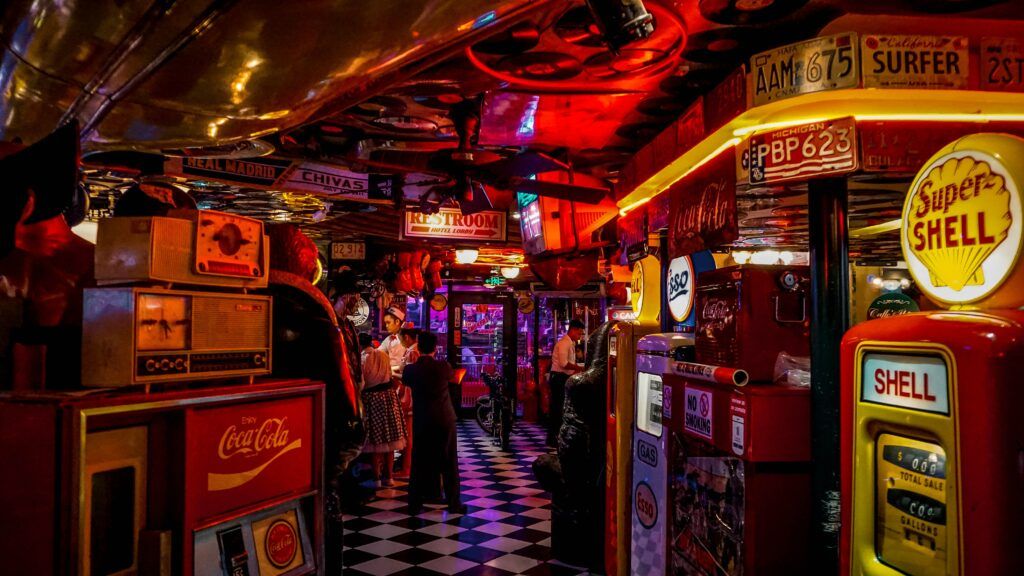 4. Go ghost hunting
As any good teenager knows, the key to a good date is getting your partner scared enough that you can look tough and put your arm around them…
Which makes Valentine's Day perfect for a local ghost hunt!
Make sure you and your partner wrap up nice and warm and then head out for a moonlit stroll through some local haunted hot spots. Even better, learn some spooky local ghost stories to tell each other along the way. Once you get too spooked out, head to the nearest pub or restaurant and spend the evening laughing at how scared you both got. Either way, it's definitely one of the cheapest and most memorable Valentine's Day ideas on a budget.
If you're not sure where to start, the National Trust has a good list of the most haunted places in the UK. See if any are near you!
5. Prepare a scavenger hunt as one of your Valentine's day ideas
OK, we'll be honest. We got this idea from Gone Girl, which — if you've never seen it — is quite possibly the least romantic film ever made. (Certainly not one to curl up with when the 14th rolls around…)
But this idea that we "borrowed" is genuinely romantic and — most importantly, dear fellow thrifty readers — cheap as hell.
Here's how to do it: 
A few weeks before Valentine's Day, think of a few important places from your time with your partner that are nearby.
Your first date, first kiss, a favourite restaurant, where you celebrated an anniversary… Anything at all. Then, once you've got a list, work out a scavenger hunt that takes them from place to place until they get to the last stop. You'll need to work out how to give them clues, too. Some people like writing rhymes like:
At the place we shared our first kiss,
Another clue you cannot miss.
Others like to get more cryptic and difficult so that Valentine's Day becomes less like a rom-com and more like a Dan Brown novel. However you choose to do it, once they solve the clues and arrive at the last stop, you can either hide a present or go for dinner or — if you've taken Beyonce's advice literally — drop down on one knee.
There you go! 5 Valentine's day ideas on a budget that are guaranteed to make this Valentine's Day one of the most memorable yet!
Author

The Bamboo Team

Posted

31 January 2020